P1C
Welcome to Primary One
In Primary One we instil and foster a love for learning that flourishes as our children continue their school years at St Brigid's. We provide a caring, secure and challenging environment in which all children have an equal opportunity to reach their full potential, spiritually, academically, socially, physically, emotionally, morally and culturally.
In Primary One, we provide a curriculum planned to suit the needs of each individual child.
Language. Literacy and Communication
Phonics
In literacy in P1, we focus on teaching and developing phonological awareness. Children will be given lots of opportunities to word build and to explore rhyme, syllables and alliteration.
We follow the Jolly Phonics programme in Primary One. Phonics is the building blocks for reading and writing in the early years. Jolly Phonics is a comprehensive programme, based on the proven, fun and muliti-sensory synthetic phonics method that gets children reading and writing from an early age.
Reading
We foster a love of reading in primary one from a very early age. We develop language skills through shared and guided reading sessions. We encourage our children to sound out new and unfamiliar words, to look at the picture to give them a clue, to read on and see what word will make sense. We work on developing these key reading strategies to ensure each child progresses at their own developmental stage.
Writing
Learning to write requires children to use multiple physical and mental processes at the same time. Writing combines many skills and relies on development in areas not just specific to writing. It requires well developed fine motor skills—the ability to use muscles in the fingers and hands; the attention to concentrate for periods of time; memory to generate ideas and remember what sounds look like to write words; and the language to be able to express themselves. We encourage our children to take risks with their writing and praise every effort made.
Numeracy
In Primary One we expanding our knowledge and understanding within the five main areas of Numeracy - Processes in Mathematics, Number, Data Handling, Measures and Shape and Space;
Mental Maths
Counting forwards & backwards in 1's,2's, 5's & 10's
Having quick recall of addition and subtraction facts of numbers to 10.
Number
Becoming familiar with numbers to 10 and beyond.
Knowing the number before/after to 10 and beyond.
Understanding One more/one less than to 10.
Addition and subtraction within 10.
Recognising coins and making amounts to 10p.
Measures
Time – Identify o'clock.
Comparing length, weight, heights, areas and capacity of objects
Shape& Space
Properties of 2d and 3d shapes
Name some 2d and 3d shapes
Handling Data
Sort sets
Represent data using pictures
Interpreting Data from simple graphs.
All children have access to the online programme Mathletics.
Play Based Learning
Play is an extremely important part of our curriculum in the Foundation Stage.
'Children learn best when learning is interactive, practical and enjoyable'.
One of the most important aims of Education is to help each child to achieve his/her fullest potential in all areas of life, not solely academically. Play Based Learning can be a very useful tool in the fulfilment of this aim. Children learn best when learning is connected. Our children experience all areas of learning during play – arts, language and literacy, mathematics and numeracy, PDMU, PE, WAU and ICT. We plan play through a topic-based approach because it provides opportunities to develop learning across the Curriculum.
ICT
ICT is embedded in to our classroom learning and teaching. Our classroom is equipped with computers, interactive boards and ipads. We encourage our children to develop essential skills necessary for communicating in the modern world.
Religious Education
We believe that religion is not just a taught subject, rather it is a way to live out our faith and therefore an integral part of our school day. We follow the 'Grow in Love' programme during our religious hour, learning new songs and prayers during each session.
We have a great team here in Primary One in St Brigid's;
Mrs McCavera- Class Teacher
Miss McQuoid- Classroom Assistant
Mrs Milne- Classroom Assistant
We hope you enjoy our class page!
Latest Photographs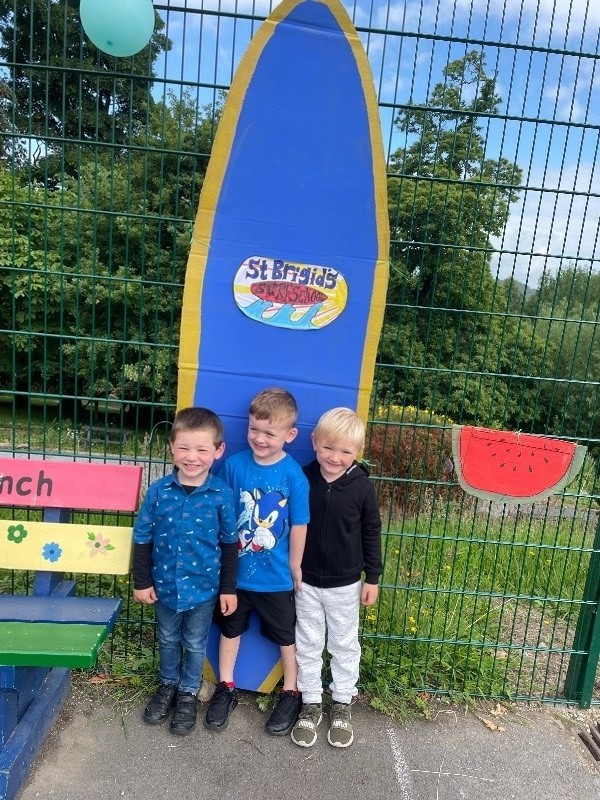 Class Photograph
&nsbp;
St. Brigid's Primary School, Rathkeltair Road, Downpatrick, BT30 6NL | T: 02844 612253 | E: dpyper683@c2kni.net