P1R
Welcome to Primary One
Welcome to our Primary One class page. We hope you enjoy it!
In Primary One, our curriculum is suited to all learning abilities It is essential to us that all children in our care feel happy, safe and nurtured in school to enable them to reach their full potential.
Language. Literacy and Communication
Phonics
In literacy in P1, we focus on teaching and developing phonological awareness. Children will be given lots of opportunities to word build and to explore rhyme, syllables and alliteration.
We follow the Jolly Phonics programme in Primary One. Phonics is essential for developing early reading and writing skills.
Reading
We encourage children to love reading from a young age. Children develop their language skills through shared and guided reading sessions. Children are encouraged to sound out new and unfamiliar words, to look at the picture to give them a clue, to read on and see what word will make sense.
Writing

All of our children are given lots of writing opportunities in Primary One. It requires well developed fine motor skills—the ability to use muscles in the fingers and hands; the attention to concentrate for periods of time; memory to generate ideas and lots of practise!
Numeracy
In Primary One we are expanding our knowledge and understanding within the five main areas of Numeracy - Processes in Mathematics, Number, Data Handling, Measures and Shape and Space;
Mental Maths
Counting forwards & backwards in 1's,2's, 5's & 10's
Quick mental recall of addition and subtraction facts of numbers to 10.
Number
Becoming familiar with numbers to 10 and beyond.
Knowing the number before/after to 10 and beyond.
Understanding One more/one less than to 10.
Addition and subtraction within 10.
Recognising coins and making amounts to 10p.
Measures
Time – Identify o'clock.
Comparing length, weight, heights, areas and capacity of objects
Shape& Space
Properties of 2d and 3d shapes
Name some 2d and 3d shapes
Handling Data
Sort sets
Represent data using pictures
Interpreting Data from simple graphs.
Play Based Learning
Play is an extremely important part of our curriculum in the Foundation Stage. Children are given lots of valuable indoor and outdoor play experiences to develop fundamental skills to their learning.
ICT
ICT is embedded in to our classroom learning and teaching. Our classroom is equipped with computers, interactive boards and ipads.
Religion:
We follow the 'Grow in Love' programme during our religious lessons, we learn new songs, stories and prayers.
Keep an eye on our page to see all of the wonderful work we do in St Brigid's!
Miss Cunningham- Class Teacher
Miss McQuoid- Classroom Assistant
Mrs McLaughlin- Classroom Assistant
Class Photograph
&nsbp;
Latest Photographs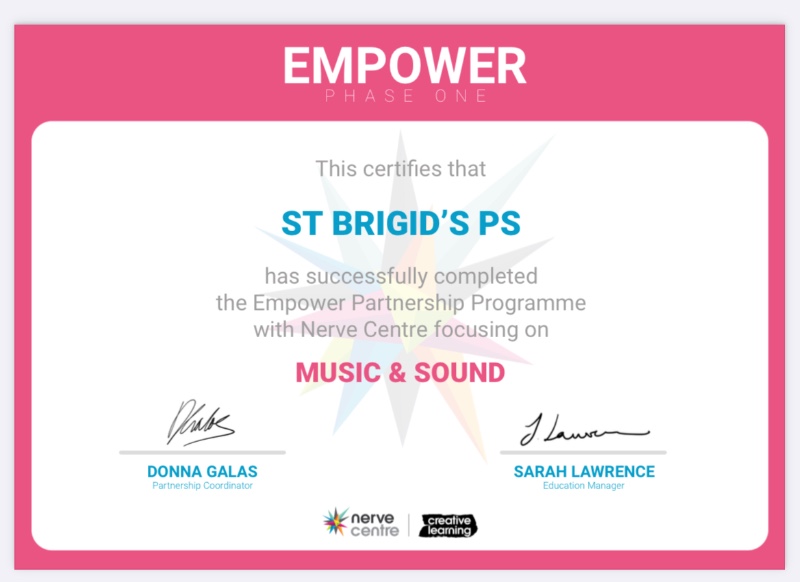 St. Brigid's Primary School, Rathkeltair Road, Downpatrick, BT30 6NL | T: 02844 612253 | E: dpyper683@c2kni.net